Collection
Thermostats
WHAT TO KNOW ABOUT THERMOSTATS

Thermostats are just as important as heating sources for creating, controlling, and maintaining the specific environmental conditions you need for your reptile to thrive. The heat needs to be consistent and supervised in reptile enclosures. So you will always get value for your money with an accurate and reliable thermostat. 
SAVE YOURSELF THE STRESS

Different species of reptiles have varying temperature requirements. A smart thermostat will help you keep your specific heat level requirements inside the enclosure. With easy setup features, a thermostat will eliminate the strain of constantly worrying about the temperature in your enclosures. You can leave your home or sleep knowing that your beloved pet has optimal conditions 24/7. You can program temperature scope, time intervals, and on/off times. The thermostat you choose should be effortless to operate and program. Digital units are typically comfortable to read and use and are generally more accurate. Thermostats with a broader temperature range are preferable, as you'll have more variety in their usage.
HOW TO USE THERMOSTATS
A smart thermostat controls the temperature generated by the heat source. Place the probe inside a reptile tank and measure the tank's temperature. You can set the thermostat to a specific temperature. When the probe indicates that the temperature is too cool, the thermostat will turn the heating source on, and when the temperature gets too hot, it will turn the heating source off. The most crucial factor in correctly using a smart thermostat is the placement of the probe. The probe will only measure the temperature of the air around it. So you should place it where the animal is most frequently located.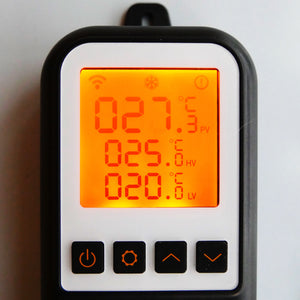 From 465 kr
Unit price

/

per
---
You're viewing 1-3 of 3 products